גב' סימון סנדלר
גב'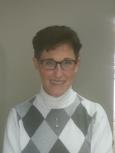 משרד:
בניין 1004 (קורט), חדר 009
קורות חיים
Simone (Rudoler) Sandler was born and raised in the USA where she received her B.A. in English Literature from Yeshiva University - Stern College for Women in 1983, and her M.S. in Educational Linguistics / TESOL from the University of Pennsylvania in 1985. She immigrated to Israel in 1985 and began teaching English as a foreign language at Bar Ilan University in 1986.
Since joining the EFL unit, in addition to teaching which has been her primary focus, Simone has been involved in many other aspects of the unit such as assessment, curriculum development and computer mediated instruction. She has held a number of administrative posts in the EFL unit as well, and is currently the coordinator for graduate level courses.
Lately her research interests focus on computer mediate language learning and instruction
פירסומים
Journals
Listening to students' voices: A curriculum renewal project for an EFL graduate academic program, System, Vol.38:2, 2010.
Weaving the Web into an EAP Reading Program; The English Teaching Forum,Vol. 39:2, April, 2001.
Books
Comprehension Plus: Reading Comprehension for College Students; University Publishing Projects; Tel-Aviv, Israel, 1997.
Papers Delivered
Academic Writing for Graduate Students: A Curriculum Renewal Project"; presented at 25th Annual UTELI Conference, Bar Ilan University, Ramat Gan, February, 2007.
Web Wonders – Brining New Life to an Academic Reading Program; presented at the 18th Annual International Technology, Reading & Learning Difficulties Conference, San Francisco, CA, USA,January, 2000.
A Path Toward Independence; presented at the 4th International ELT Conference, Ankara, Turkey, February, 1999.
Weaving the Web in EFL Academic Reading; presented at the Reading, Technology and Learning Disabilities Conference (RTLD),Framingham, Massachusetts, USA, October 1998.
Internet Interactions; presented at the 6th Inernational NELLE Conference, Bielefeld, Germany, August 1998.
Developing Independent Learners for Academia; presented at Bar Ilan University, EFL Unit staff development workshop, Ramat Gan, Israel, March, 1998.
תחומי מחקר
Research Fields
E-Learning: Computer Mediated Language Learning and Instruction
EFL Composition Curriculum Development
Assessment
Research Projects
The Spencer Foundation Grant Proposal: "A Theoretical and Practical Framework for
Foreign Language Academic Writing Curriculum", Co-authors: Orna Ferenz, Hadara Perpignan, Iris Elisha-Promo, Keren Goldfrad, January 2007; Bar Ilan University, Ramat Gan, Israel
M.A. Level Curriculum Development Project, Bar Ilan University, 2006 – current
Meital: Inter-university Project for the Development of On-line Material in English for
Academic Purposes, 2002 – 2004.
C.A.L.L. Materials Development Project for Bar Ilan EFL Unit, 1995 – 1998.
תאריך עדכון אחרון: 26/01/2017