מר שמחה בלוך
מר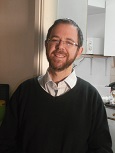 משרד:
בנין 1004 קורט, חדר 110
קורות חיים
CURRICULUM VITAE
ACADEMIC BACKGROUND
M.A.

1999

M.A. in English linguistics, Bar-Ilan University

B.A.

1995

B.A. in English literature, Bar-Ilan University

Teaching

License

1995

Bar-Ilan University
PROFESSIONAL AND RESEARCH EXPERIENCE
| | |
| --- | --- |
| 2000 - | Lecturer in the EFL Unit, Bar-Ilan University |
| 2002 - | Lecturer in the Academic College Ono, Kiryat, Ono |
| 2001 - 2014 | Lecturer in English, Mivchar, B'nei B'rak. |
| 2000 - 2002 | Teaching English at Set Seminars in Tel Aviv |
| 2000 - 2001 | Lecturer in the New England College, Tel Aviv |
COURSES TAUGHT
In the field of EFL:
Trom Bsisi
Bsisi
Mitkadmim A
Mitkadmim B
M – M.A.
In other fields:
Education department: Special M.A. course for students studying

"תורה ומדע"

(Science and Torah)
Ono College: business and legal English
פירסומים
Textbook "Bridging the Gap" for Trom Mitkadmim,
EFL Department at Bar Ilan, for internal use only,
September 2004 (together with three colleagues)
תחומי מחקר
My Teaching Philosophy
Many of my students have never had a chance to learn English properly, such as students at the Charedi College in Bnei-Brak, Ethiopian and Russian immigrants, Arabs, and middle-aged students (civil servants) resuming academic studies in order to achieve a promotion at work. These students often have "English phobia­". They feel they will never know English. This results from a lack of confidence based on their unsuccessful experiences in the past.
Therefore, my primary goal in teaching is to help those students regain their self-confidence, thus, enabling them to "open their minds" and absorb the English language. I work towards achieving my goal by keeping the atmosphere in class serious, but without extra tension, and providing a lot of moral support, encouragement and reinforcement. It is very important that students develop a positive attitude towards learning English which will give them eventually more motivation and confidence.
Moreover, I try to get to know my students personally and familiarize myself with their individual problems. In my opinion, a teacher should spend time individually with each student (either after class or meet them during the office hours) in order to create a personal relationship. When a student knows his teacher personally on a one-to-one basis, the teacher seems less formidable and less threatening; the student feels more comfortable studying with him. This will help not only the teacher understand the student better, but the student's ability to study English improves and grows.
Finally, my most important tool in my toolbox is humor. I try to spice my lessons with jokes and humorous remarks. Every so often I even put on a little play in class to help clarify and enliven a point discussed in class. What student will forget the time I donned a wide-brimmed hat and sunglasses in the middle of class and put sun lotion on my arm when discussing the dangers of overexposure to the sun! Humor and doing a skit in class help create a positive, interesting and exciting learning atmosphere.
In short, I believe that an encouraging, understanding and humorous attitude on part of the teacher must help the students pave their ways towards mastering English
תאריך עדכון אחרון: 22/12/2016